Welcome to my annual Earth Week series! I believe that protecting the Earth deserves more than one day, so I've given it a week. Check back every day from April 20-24 to learn about a new environmental issue (or solution!) each day.
Sometimes we forget about the oceans, despite the fact that they take up 70% of the Earth's surface. Or, more specifically, we forget to think about what ends up there.
A study in the journal Science found that we deposit between 5.3 and 14 million tons of plastic in the oceans every year. I mean sure, that's a huge range. But to make it more fathomable, OnEarth made analogies for plastic totaling 9 million tons. 9 million tons of plastic is 136 billion plastic jugs, which, if stacked, would "reach more than halfway to Mars." 9 million tons of plastic is "also the equivalent of piling five grocery bags full of plastic on every foot of coastline in the world."
So, in other words, that's a lot of plastic. And however you quantify it, a lot of it is going into the oceans.
If you don't know, there is a huge pile of plastic floating in the Pacific Ocean called the Great Pacific Garbage Patch. The patch is actually a group of trash piles that collect between the west coast of the US and the East Coast of Asia. The trash "vortex" collects in a convergence zone in the ocean – where warm water from the the southern hemisphere meets with cold water from the Arctic. You can see the different trash piles below: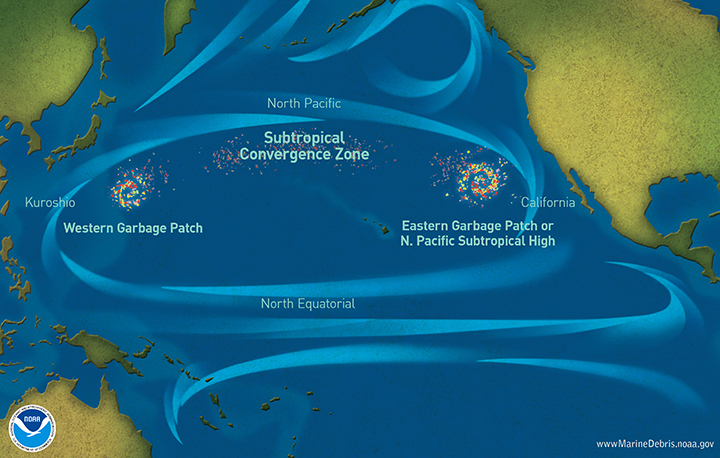 The plastic converges here because a lot of it isn't biodegradable, considering it's plastic. That, paired with the fact that we produce 620% more plastic than we did as a society in 1975, is causing problems for marine life as well as the health of the ocean. Mashable reports that when plastic is jostled in the ocean, it is sometimes broken up into tiny shreds, small enough to be ingested my animals and avoid nets of those trying to clean up the sea.
So what can you do to help? Here are some ideas:
Use less plastic: we only recycle 14% of plastic we use in the US, and that's pretty bad. If you live in an area where recycling is easily accessible, please just recycle. Just put that plastic bottle in your recycling bin!
Stop using products with plastic micro-beads in them: okay, so ICYMI, your facial cleanser probably has tiny pieces of plastic in it. Do you have exfoliating beads? Bingo. Simple solution – don't use these! Find other products . If you're inclined to take a stand, find out more here.
Reuse the plastic you do use: use extra plastic jars to house snacks instead of using plastic snack/sandwich bags. You can also reuse the tupperware from lunch meat to take your sandwiches to work. There are endless possibilities!
Don't use plastic bottles: if you read my blog, you know plastic bottles are horrible, not just for the environment because of plastic pollution, but because of water extraction too. The bottles are made of fossil fuels, too, which doesn't help the Earth much.
It's easy to make change – just pick what works for you and stick to it! A little goes a long way. Thanks for joining me for this Earth Week series!
This post concludes my Earth Week posts for 2015. Click here for more!