Today, the focus was on my presentation! Yesterday was more focused on going to talks and poster sessions, but today I spent most of the afternoon standing by my poster.
In the beginning of the day, Dr. G and I visited the exhibit hall where a TON of exhibitors (Google, NSIDC,  NASA, and USGS) had tables with free stuff! I have crowned myself the swag queen: some of my free items include 25+ pens, 5 packs of post-it notes, posters, a calendar, stickers, candy, a slinky, notepads, a beach ball, and a ton of other items (and of course, literature from each as well!). Needless to say, my suitcase is overflowing. After lunch we went to a talk by James Cameron on his recent deep ocean explorations. Around 5pm, I went to a bloggers forum, in which various skill-leveled bloggers spoke about their challenges of relating scientific topics to the public.
For the better part of the day, I presented my abstract in a poster session. For those who don't know, I wrote an iBook called Controversies in the Hydrosphere for middle school teachers who may not have enough free earth science resources to utilize on their iPads in the classroom. I was in a poster hall of over 2,000 posters, and here is my booth!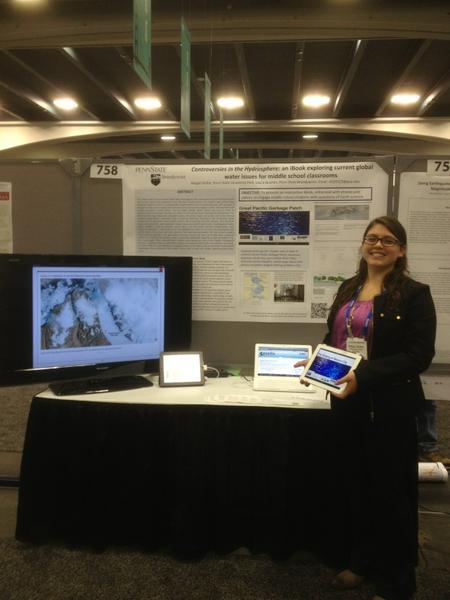 At my poster session, I explained the premise of the book, as well as the outline and chapter outlines. I also talked about why writing this book is important for middle school students, and how said students can interact with this book and really enjoy themselves while learning. At these conferences (like Sigma Xi and Undergraduate Research at the Capitol), there are usually a number of people who ask me the most ridiculous questions about my poster (and these questions have nothing to do with the content). AGU was different, however. Because of the number of intellectual minds at this conference. People were genuinely interested in my work, and I distributed a lot of business cards and information cards. It was very exciting to meet so many people who took an interest in my work and expressed interest in using it in their classrooms.
This poster session was the perfect way to wrap-up AGU. I wish I could stay longer than 2 days, but after taking the day to travel home tomorrow, the last Fall of my undergraduate career awaits on Thursday!
Visit my blog again on Wednesday, Thursday, and Friday, where I will highlight my favorite aspects of AGU, my thoughts on the experience, and a photo-journal of my trip.
To download my books, Controversies in the Hydrosphere and Deepwater Horizon Oil Spill, visit the PAESTA website on your iPad!